The Love Designer Presents!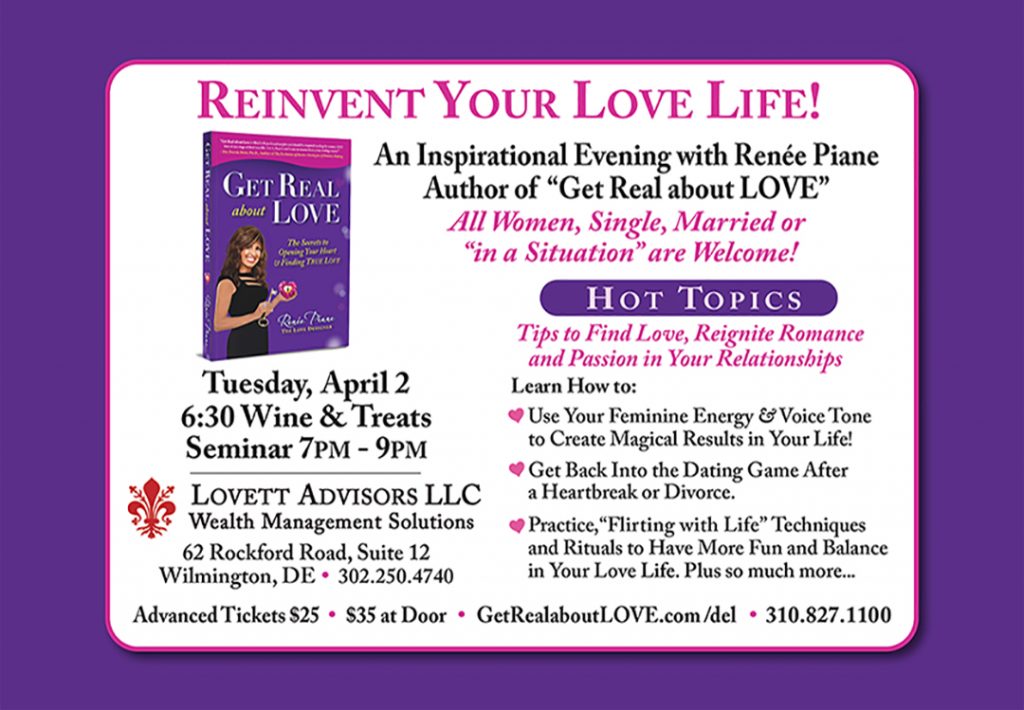 The Love Designer will be in Wilmington to share how to
Get that* Sparkle* Back into your Love life!
Calling all Wonder Women, Super Moms, Married or Single!


If love is your priority…it's time to "Get REAL about LOVE."
Learn how to manifest and design the Love you want or 

reignite
the passion in your current relationship!



WHEN: Tuesday, April 2nd


TIME: 6:30 (sign in) Join us for wine and treats
SEMINAR:  7:00 – 9:00pm
WHERE: Join us at

 the lovely office of



Learn more about their awesome financial services for women
www.LovettAdvisors.com


Phone (302) 250-4740 
Spicing UP your Love life with new energy and intentions!
Renee's secret rituals to help you switch gears from being a busy wonder woman and get back into the love and romance zone.
Using your feminine powers and voice tone to get magical and results with your partner and family.
 Realigning the "Parts" of you that may be sabotaging your LOVE life!
Powerful tips if you're looking for love or want to rekindle more romance and passion in your current relationship.
Fun "flirting with life" techniques and so much more…
Renee has helped thousands of people find true love and is a true healer of the heart.  Get Real about LOVE and design your plan of action to Spice Up your Love or Attract the Relationship of Your Dreams!
The Tickets are only $25 in advance online
or $35 (cash, check or credit at the door)

Invite a friend It's a heart opening & enlightening experience!

 Renée Piane-Bio
Renée Piane The Love Designer is an internationally known Relationship Reinvention expert, and the master at connecting people.  A widely acclaimed inspirational speaker, TV celebrity, radio host and author of Love Mechanics and Get Real about LOVE ~ The Secrets to Opening your Heart & Finding True Love. Renee has been on a mission teaching and speaking for over 28 years.
She was one of the pioneers of the first non-denominational speed dating company Rapid Dating and then added Rapid Networking™ to help people connect for business.  Since 1990, Renée has facilitated thousands of connections for love and business.
Renée draws from her 28 years of research in psychology, marketing, sociology, metaphysics, and the healing arts. She is certified in NLP (Neuro-Linguistic Programming), time-line therapy and a clinical hypnotherapist.
Renée's work has appeared on over 75 television networks and publications such as CNN, NBC, ABC, The Today Show, and Lifetime. She has also been published in The New York Times, The Los Angeles Times, Men's Health, Cosmo and The Wall Street Journal listed her as one of the 8 resources for singles in America. She is an advisor and coach for high powered executives and celebrities who are looking for their ultimate match or are going through heartbreaks and transitions in their relationships.
Renée was honored to receive The Top International Dating Coach Award at I Date and the Women of Achievement award in 2016. Renée has dedicated her life to "spreading more love" while supporting various charities with her social events.
Living true to her own message also paid off in her personal life when she married the man of her dreams in 2004 who is also from Wilmington. She has been happily married for 13 years and after a life threating illness she is on a quest to wake people up to balance life, love, family, and business. They live with their adorable dog Buddy in Marina Del Rey, California. www.ReneePiane.com

I am so excited to be sharing my passion in my book GET REAL about LOVE~
The Secrets to Opening your Heart & Finding True Love
It's Time to GET REAL! 
Are you a busy, successful Wonder Woman or Superman who's ready to find the love of your life? If you are new to the dating game or reinventing your life, you are about to embark on a heart-opening journey that will be sure to change your life forever.
GET REAL about LOVE is not only a powerful book that weaves in true love stories, rituals, secret keys, and all the tools to prepare you for a sacred relationship, it's also a wake-up call for millions of people who are just too busy to take time for love!
This inside/out Love Design process is something that most of us never learned growing up. You will uncover and transform the beliefs that have been passed down through your love lineage and experiences from your past that might be the missing links that have blocked you from love…                                                                                    until now!
It is also an insightful guide for single and married people to understand themselves and create deeper connections in all of their relationships. The book will be available at the seminar and it comes with a heart and sacred vows.
This book is also available as an EBook and in audio form on Audible.com
Check the book out here on Amazon.com